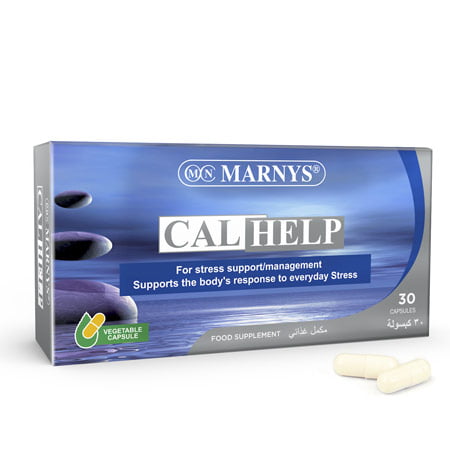 Reduce stress and anxiety the natural way.
It helps to improve mood, mental sharpness and learning capacity, promoting a better sleep quality. It does not cause drowsiness , therefore not affecting motor skills.
Marny's Calhelp contains hydrolysed milk protein, L-theanine, vitamins and minerals in a soft vegetable capsule.
Milk protein hydrolysate:
Favours the normalization of blood pressure, physical performance & better sleep quality.
L-Theanine
It is similar to the excitatory neurotransmiter glutamic acid. After being absorbed in the small intestine, it crosses the blood brain barrier.Once in the brain, L-theanine has plenty of positive psychological effects. It is calming, improves moodmental sharpness and learning ability.
Magnesium Citrate & Zinc Gluconate:
Contributes to muscle relaxation.
Favour energy metabolism.
Vitamin C,E & B complex:
Modulates the production of neurotransmitters.
Enhance cognitive function.
Hydrolysed milk protein, L-theanine, magnesium citrate, vitamin C (Sodium L-ascorbate), niacin (nicotinamide), vitamin E (dl-alpha tocopheryl acetate), pantothenic acid, zinc gluconate, vitamin B6 (pyridoxine hydrochloride), riboflavin, thiamine (thiamine mononitrate), biotin, folic acid, vitamin B12 (cyanocobalamin).
Take one or two capsules a day.
30 vegetable capsules
Food supplemnet should not be used as a subtitute for a balanced diet. Don't exceed recommended daily dose.
Only logged in customers who have purchased this product may leave a review.