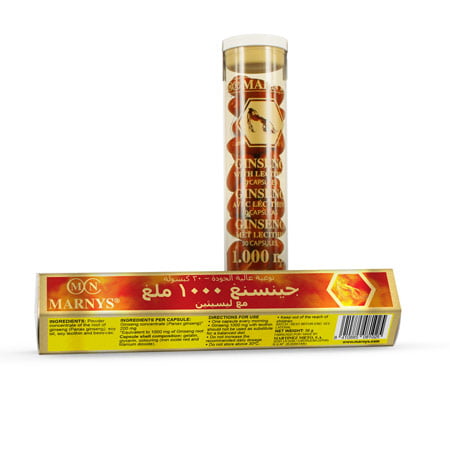 Improves mental and physical activity .
Korean Ginseng (Panax ginseng) is one of the most farmed ingredients in traditional Chinese medicine and one of the most popularly used adaptogens worldwide. Ginsenosides are responsible for most of the activities of ginseng.As tonic substance, it raises resistance to fatigue and stress.
MARNYS® GINSENG WITH LECITHIN : contains superior quality Ginseng and Soy Lecithin in soft gelatin capsule .
Ginseng:
.

It contributes to physical and mental performance, facilitating physical activity, concentration and memory.
Ginsenosides present in Panax ginseng have antioxidant proportes .
Helps in maintaining a normal immune function and normal blood glucose levels, favouring therefore the energy process in mental and physical activities.
Soya Lecithin phospholipids are highly concentrated energy reservoirs.
Each capsule contains : Panax ginseng 200 mg. Meyer concentrate (equivalent to 1000 mg of Ginseng root), Soy oil 600 mg, soy lecithin 30 mg and bees wax 20 mg.
One capsule per day preferably in the morning .
30 capsules
Food supplement should not be used as a substitute of a balance diet. Don't increase the recommended daily dose.
Only logged in customers who have purchased this product may leave a review.