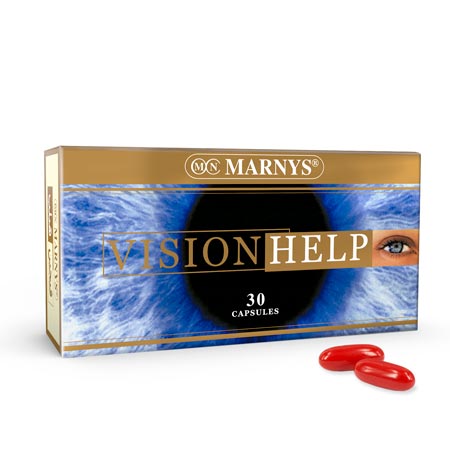 Natural formula for better vision
It helps delay the occurrence and progression of some eye disorders (macular degeneration, cataract, retinopathies, etc.) .
It contains Lutein, Zeaxanthin, Minerals,Bilberry & Antioxidants in soft gelatine capsule.
Lutein & Zeaxanthin: Helps reduce oxidative damage caused by light and to protect the eye against photochemical reactions through their antioxidant action.
Bilberry: Provides 25% anthocyanosides, which are polyphenols with a powerful antioxidant action.and supports the microcirculation and enzymatic activity in the retina.
Taurine: is the most abundant amino acid in the retina.
Arginine: is an essential amino acid in ocular metabolism.
Vitamin B2 (riboflavin): contributes to the maintenance of normal vision and to the protection of cells from oxidative stress.
Minerals (magnesium, zinc & selenium):  facilitate cell regeneration and electrolytes balance.
Bilberry concentrate (25% Anthocyanosides), Magnesium Citrate, Calcium Citrate, Vitamin C, Taurine, Arginine, Nicotinamide, Zinc Dioxide, Lutein, β-Carotene, Vitamin E, Vitamin B2, Vitamin B1, Zeaxanthin, Selenium Yeast, Chromiun Picolinate and Vegetal oils, Beeswax & Soya Lecithin in s.q.
1-3 capsules per day.
30 capsules .
Food supplements should not be used as a substitutes for a balanced diet.
Only logged in customers who have purchased this product may leave a review.