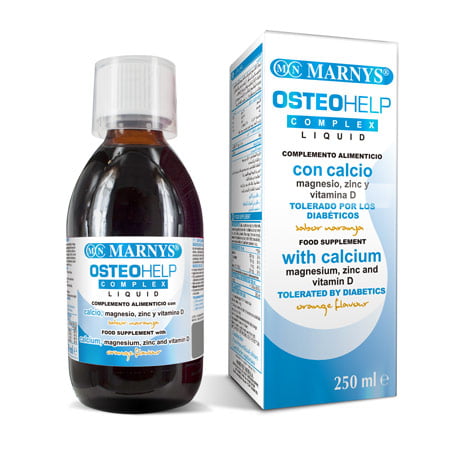 Supports normal function of bones, joint and teeth.
It works by supporting bone density through its calcium, magnesium, zinc & vitamin D supply, helping in stronger bones & teeth.
MARNYS® OSTEOHELP contains Calcium, Magnesium, Zinc and Vitamin D with orange flavour.
Calcium:
Strengthens bones & helps in preventing osteoporosis.
Supports bone density.
Helps to improve dental & gum health.
Vitamin D:
Helps in calcium and magnesium absorption.
Interacts with parathyroid hormone in order to mobilize calcium and phosphorus in bones.
Reduces calcium & phosphorus elimination through kidneys.
Magnesium:
It's essential for bone formation since it helps with calcium absorption and plays an important role in activating vitamin D.
Supports bone mineral density.
Zinc:
Is necessary as enzyme cofactor to synthesize bone organic matrix.
Calcium carbonate, magnesium hydroxide, zinc gluconate, vitamin D (cholecalciferol).
Children 1-2 years 5ml twice daily . Children 3-12 years 10 ml twice daily . Adults 10 ml twice daily .
250 ml bottle
Do not exceed the recommended dose.
Only logged in customers who have purchased this product may leave a review.