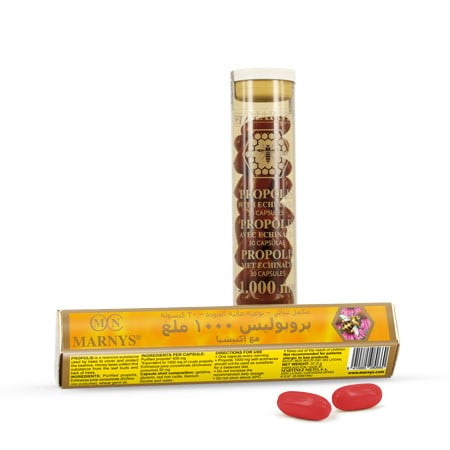 Helps to stimulate the immunity and defense mechanism against microbes.
The synergic effect of its constitutes makes it ideal and effective against wide range of bacteria & viruses and give it immunostimulating properties.
Marnys Propolis 1000 mg with Echinacea is a soft gelatin capsule with rapid action
Propolis is a resinous substance used by bees to cover and protect the beehive against any possible microbial attack ,has antibacterial, antiviral & anti-fungal effect. It's rich in bioflavonoids, essential oils, minerals, vitamins and amino acids. 
Echinacea helps to stimulate the immune system & reduce the duration of  viral & bacterial infection. 
Wheat germ oil is an excellent nutritional supplement, since it provides our body with essential substances, among them vitamin E and linoleic acid. 
400 mg of purified propolis (equivalent to 1,000 mg of crude propolis) enriched with 30 mg of Echinacea juice concentrate in a base of Wheat Germ oil. 
1 capsule daily preferable in the morning.
30 capsules x 1000 mg
Food supplement should not be used as a substitute of a balance diet.
Only logged in customers who have purchased this product may leave a review.