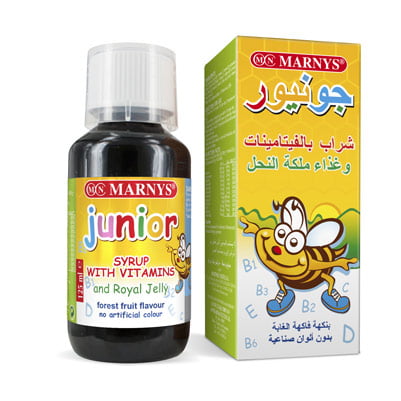 Enhance immunity , physical & intellectual development in children.
It contributes to maintain adequate levels of vitality and energy, increasing resistance to stress and fatigue. It favours the functioning of the immune, osteomuscular and nervous system.
Contains Royal Jelly & multi-vitamins in a bottle with measuring cup.
Royal Jelly :

It contains essential amino acids, minerals, vitamins & acetylcholine, thus acts as an immunostimulant, increasing antibody formation, hence improving the body defence against any microbial infection.
Speeds up recovery.
Improves learning capacity.
Enhance appetite.
Multivitamins:


Hight multivitamin content, which contributes to normal immune system functioning in the context of a balanced diet & a healthy lifestyle
Royal jelly, vitamin C, vitamin B3, potassium sorbate, vitamin E, vitamin B5, vitamin B6, vitamin B2, vitamin B1, vitamin A, folic acid, biotin, vitamin D and vitamin B12. 
Children 1 to 5 years: 5 ml per day . Children 5 to 12 years: 10 ml per day .
125 ml bottle with measuring cap.
Don't exceed recommended daily dose. Shake well before use.
Only logged in customers who have purchased this product may leave a review.