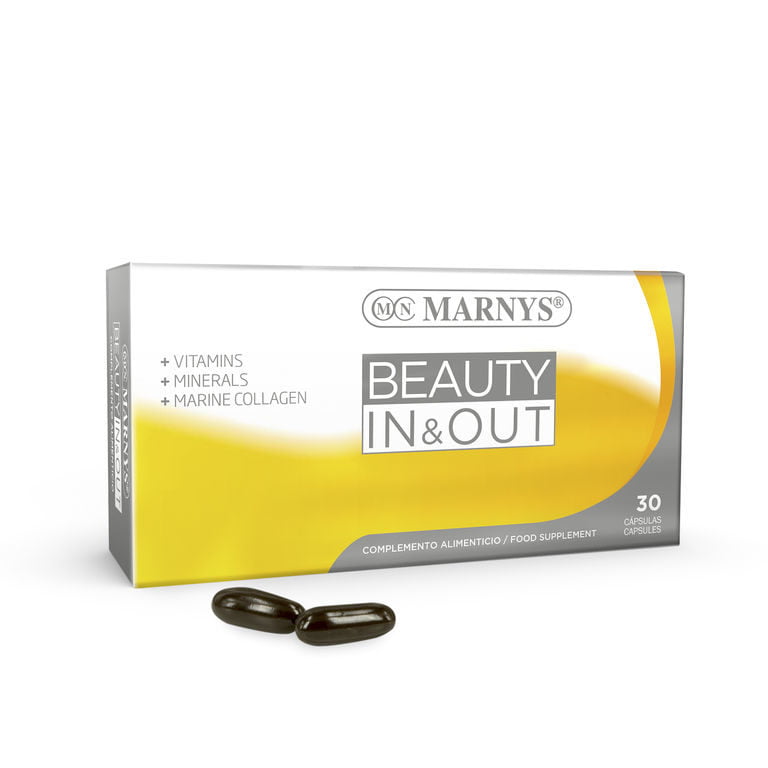 Food supplement for perfect skin, hair and nails
MARNYS® BEAUTY IN & OUT contains marine collagen, vitamins, minerals and olive, borage and salmon oils. in soft gelatine capsule. Nutricosmetic formulation especially designed to, nourish skin from within, reduce wrinkle formation and protects skin against environmental stress factors such as UV rays, pollution or smoking.
Marine Collagen:
Very low molecular weight, therefore better absorption & higher bioavailability.
Strong antioxidant.
Provide building blocks for repairing damage caused to skin by UV and dryness.
Keeps skin flexible , strong & elastic.
Oils ( Omega 3,6,9). Provide skin with nutrition in form of fatty acids.
Minerals (Zinc, Magnesium, Iron):
It has a role in cell division and growth as well as in wound healing. Promotes normal hair follicle cell division which supports hair growth. 
Acts as an antioxidant & It's main function is to transport oxygen to tissues.
Vitamins (C, E, Biotin, Niacin, Riboflavin). Contributes to normal collagen formation for normal skin & hair function.Acts as an antioxidant, protecting the skin against the harmful effects of free radicals & fatty acids.
Amino Acid (L-Cystine, L-Methionine). It's an amino acid which is part of keratin, a protein that takes part in building and maintaining nail & hair.
Salmonoil, olive oil,marine collagen, borage oil, vitamin C, L-methionine, L-cysteine, magnesium sulphate, iron sulphate, nicotinamide, d-alpha tocopheryl acetate, calcium pantothenate, zinc oxide, vitamin B6, riboflavin, thiamine, folic acid, biotin, vitamin B12, soy oil, soy lecithin &beeswax.
One capsule daily.
30 capsules
Do not exceed the recommended dose.
Food supplement should not be used as a substitute for a balanced diet.
Only logged in customers who have purchased this product may leave a review.