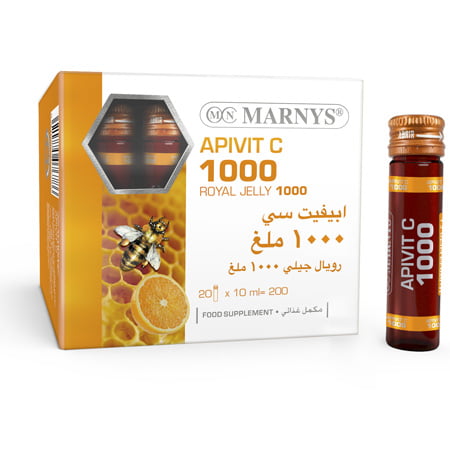 Refresh your immunity and restore energy.
The synergic effect supports the body immune defences against microbes  thus reduce the severity & duration of the cold & flu symptoms while supplying the body with energy.
MARNYS® APIVIT C 1000 contains Royal Jelly and Vitamin C with orange flavor in drinkable vials.
Royal jelly provides extra energy for enhancing rhe mrabolic processes, contributes to the action against fatiguw and tiredness, and support the immune system.
Vitamin C has a direct antioxidant capacity and contributes to protecting cells from the harmful effects of free radicals.
Royal jelly, artificial orange aroma and vitamin C
1 vial a day before breakfast.
20 Vials x 10ml
Nutritional supplements should not be used as a substitute for a balanced diet.
Only logged in customers who have purchased this product may leave a review.