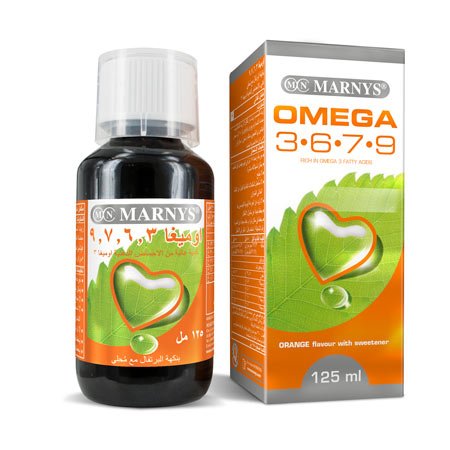 All plant based omegas in one shot .
MARNYS® OMEGA 3,6,7,9  rich in fatty acids, has been developed to support body growth, having beneficial effects on inflammation, serum triglyceride levels as well as on important organs like heart, lungs, joints, brain and the nervous system.
MARNYS® OMEGA 3,6,7,9 with orange flavor .
MARNYS® OMEGA 3,6,7,9:
Supports childhood brain development and nervous system .
Supports mental development in premature children .
Supports structure & function of the visual organs (dry eye) .
Managing attention deficit and hyperactivity .
Can be useful in Autism .
Skin improvemnt . 
Sesame oil, Flaxseed oil , macadamia oil .
Childrin 4-6 years : 2.5ml Daily . Children 6-12 years : 5ml Daily . Adult : 15 ml Daily .( preferably before meal )
125 ml bottle
All omegas are plant-based Omega 3-6-7-9. High plant-based Omega-3 fatty acid content
Only logged in customers who have purchased this product may leave a review.