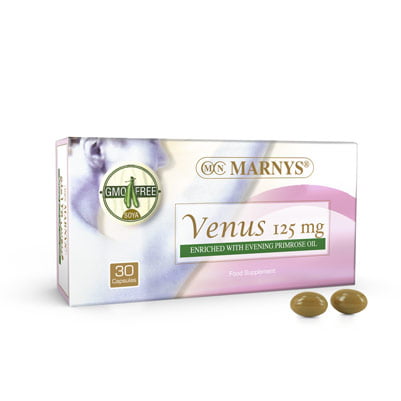 Helps relieve the symptoms of menopause & postmenopause.
It's a food supplement specially formulated for the well-being of women. With Evening Primrose Oil and Soy Isoflavones, it helps to alleviate the discomfort caused by hormonal changes due to menopause and postmenopause.
MARNYS® Venus contains Soy Isoflavones enriched with evening primrose oil and natural vitamin E in soft gelatin capsule.
Evening Primrose Oil:
It may help relieve Premenstrual syndrome symptoms, such as, depression, irritability & bloating.
Isoflavones:
Are flavonoids that have a similar chemical structure to estrogens and phytoestrogens and so can exert an estrogenic effect therefore may help relief Post Menopausal Syndrome symptoms

such as (Hot flushes, Night sweat, Irregular periods, mood swig, sleep disorder, vaginal dryness, breast pain, etc)

It helps to improve blood lipid profile, cardiovascular health and prevents bone mass loss due to estrogen deficiency.
Natural vitamin E:
It is the main lipid-soluble antioxidant, contributing to the protection of cells from oxidative damage.
Evening primrose oil , soy isoflavones concentration , beeswax , vitamin E.
One capsule per day, before breakfast.
30 capsules .
Food supplements should not be used as a substitute for a balanced diet. Do not increase the recommended daily dosage.
Only logged in customers who have purchased this product may leave a review.