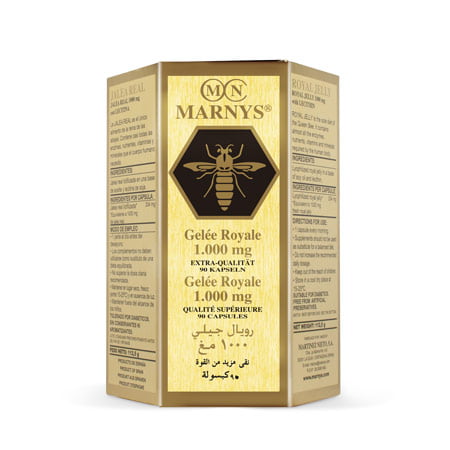 Enhance physical performance and memory.
Royal jelly (Queen's bee food) is extremely nutritious, due to the presence of unsaturated fatty acids, essential amino acids, vitamins and minerals that enhances the energy process of the body, especially being useful in the cases of nutritional deficiency. 
Natural source of minerals, vitamins, amino acids and acetylcholine in soft gelatin capsule .
Royal jelly :
Provides extra energy for enhancing the metabolic processes.
Contributes to the action against fatigue and tiredness.
The combined synergic action with soybean lecithin provides phospholipids, essential elements for the cells, especially for the nervous system.
Improves the immune system .
Soy Lecithin phospholipids are highly concentrated energy reservoirs.
Fresh Royal Jelly, in a base of Soya Oil and Soya Lecithin.
One capsule per day preferably in the morning .
90 x 1000 mg capsules
Suitable for diabetics.
Only logged in customers who have purchased this product may leave a review.