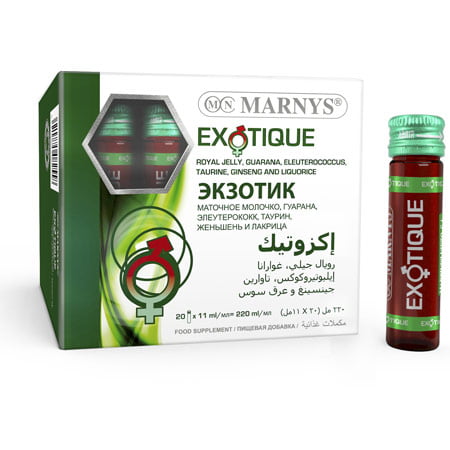 Tonic action for energy and endurance .
MARNYS® EXOTIQUE VIALS has been created to generate in our body a tonic and stimulant effect that reduces the feeling of tiredness associated with prolonged negative stress, overcome sexual asthenia and prepares the body for physical performance, in both men & women.
MARNYS® EXOTIQUE VIALS formula contains Royal Jelly, Guarana, Taurine, Siberian Ginseng, Ginseng and Liquorice in a unique drinkable vials.
Royal jelly:
Has high nutritional content that provide the body with energy & modulates the metabolic processes that involve lipids & glucose.
Eleutherococcus senticosus "Siberian ginseng":
It helps in relieving stress by controlling the body's adrenaline system.
Supports oxygen use during physical effort.
Taurine:
It takes part in lipid metabolism and in regulating blood glucose level, therefore stimulating the use of energy necessary in periods of high physical or mental activity.
It acts as a neuromodulator that regulates the oxidative stress, an antiinflammatory substance and has positive effect on the skeletal & heart muscles.
Guarana:
It is mainly valued for its high caffeine content and as an antioxident.
Helps improve energy stamina & libido.
Ginseng:
Supports sexual desire in both men & women.
As a tonic substance, it increases resistance to fatigue and stress.
It is active against oxidative stress, raising corticosterone level & lowering brain oxygen consumption.
Liquorice (Glycyrrhizin):
50 times sweeter than common sugar.
It's an adaptogen that supports liver health, endocrine & immune function, which supports overall hormonal balance .
Royal Jelly , Paullinia cupana seed extract powder, Taurine, Eleutherococcus senticosus root extract powder, Panax ginseng root extract powder, Liquorice (liquid concentrate) .
Take one vial daily .
20 x 11 ml vials .
People with high blood pressure should avoid excessive consumption. Not recommended for children, during pregnancy or when breastfeeding.
Only logged in customers who have purchased this product may leave a review.