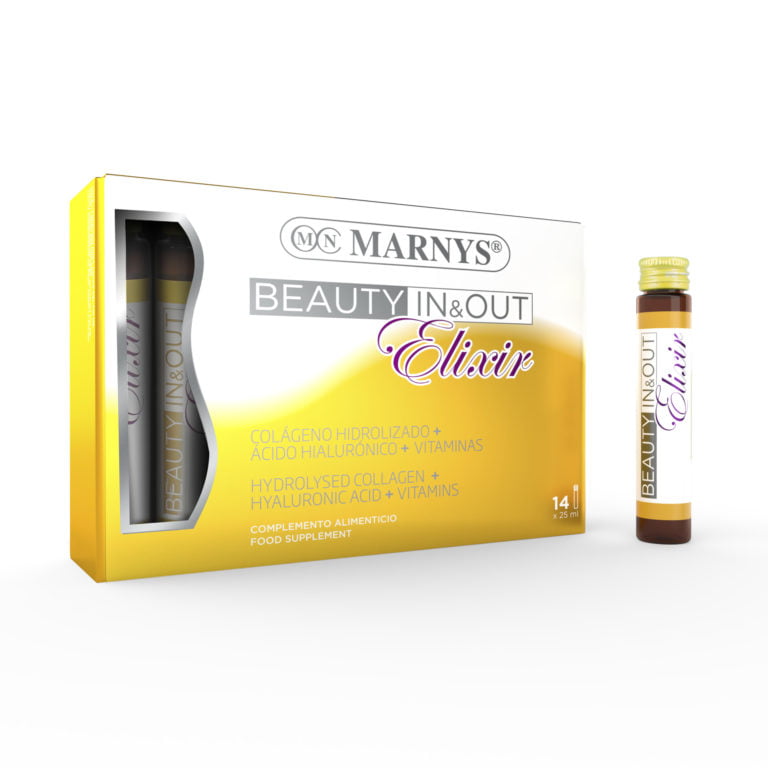 Food supplement for perfect skin, hair and nails.
Due to its high bioavailability and the synergy of its active ingredients, this elixir helps restore the texture of your skin and maintain it's youthful appearance. 
Marnys® Beauty In & Out contains hydrolyzed collagen type I, Hyaluronic acid, Grape seeds (OPCs) and Vitamins in a unique drinkable vials with forest fruit flavor.
Hydrolyzed Collagen Type 1. Marnys Beauty in & out Elixer contains 5000mg of hydrolyzed collagen type 1 which are the essential quantity to maintain firmness and elasticity in the skin, hair and nails and to preserve their youthful appearance.
Grape Seed with 95% Oligomeric Proanthocyanide Complex (OPCs), prevent oxidative stress. It reduces premature skin aging.
Hyaluronic acid :
It's main function is to retain water to keep your tissues well lubricated and moist.
Rejuvenates & moisturizes the skin thus reduce wrinkels.
Vitamins & Minerals :
Vitamin B complex: Helps to reduce tiredness and fatigue.
Vitamin C: Promotes normal formation of collagen for normal skin function.
Vitamin E: Contributes to the protection of cells against oxidative damage.
Zinc: Helps to maintain normal nail condition.
Zinc & Biotin: Contribute to the maintenance of normal hair conditions by regulating protein production & cell balance.


Hydrolyzed collagen type I, Hyaluronic acid, Grape seeds (95% OPCs), Vitamin B complex, Vitamins A, C and E.
1 vial daily in the morning.
14 X 25 ml vials
Do not exceed the recommended dose.
Food supplement should not be used as a substitute for a balanced diet.
Only logged in customers who have purchased this product may leave a review.