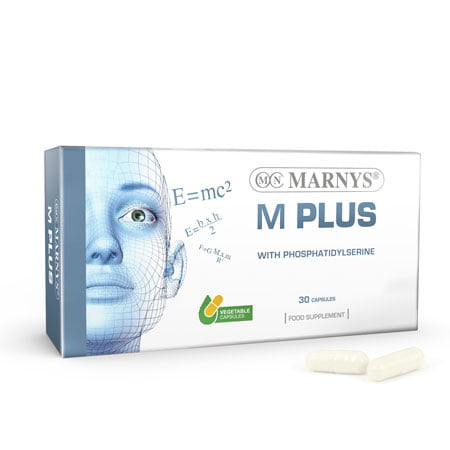 Support memory and improves concentration.
It is especially recommended for adults who need extra energy to their cognitive function (concentration, memorisation, etc.).
MARNYS® M Plus is a food supplement formulated with phosphatidylserine and choline in the form of citrate in vegetable capsules.
Choline. In the brain, choline speeds up the creation and release of acetylcholine, a protein that carries signals among brain cells and is important for memory and assorted other brain functions. It helps in Improving memory and cognition. 
Phosphatidylserine (PS). Helps in improving attention, language skills, and memory in aging people with declining thinking skills. Taking phosphatidylserine can improve some of the symptoms of Alzheimer's disease after 6-12 weeks of treatment.
Vitamins & Minerals:
Vitamin B have many important functions and are vital for maintaining good health.Supports healthy nerve function.
Vitamin C, thiamine and niacin contributes to normal function of the nervous system . 
Zinc work as neurotransmitter in the glutaminergic (neurones ) located mainly in hindbrain . 
Magnesium is necessary for a correct functioning of metabolism.
Phosphatidylserine IP-20 ,(soy lecithin enriched with phosphatidylserine 20%), choline Citrate, zinc gluconate, beta-carotene, ascorbic acid, fructose, dl-alpha-tocopheryl acetate, niacin, riboflavin, thiamine mononitrate, sodium selenite, Chromium(III) chloride.
Take one capsule one to three times a day, preferably with a meal.
30 vegetable capsules
Do not exceed the recommended dose.
Only logged in customers who have purchased this product may leave a review.