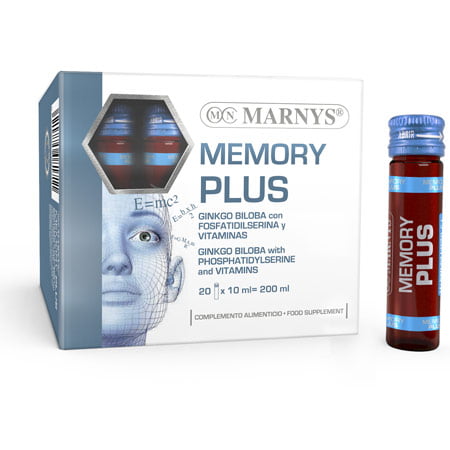 Support memory and improves concentration .
It stimulates natural and quick memory retrieval, protects the brain against damage caused by free radicals, favors neuronal development, which stimulates information processing and the development of cognitive functions like attention, concentration, learning and behavior. 
MARNYS® MEMORY PLUS is a food supplement contains Ginkgo biloba , phosphatidylserine with vitamins in a drinkable vials .
Ginkgo biloba:
Is a plant that has been traditionally used by Chinese medicine, especially as a treatment for brain anti-ageing.
Powerful antioxidant.
Supporting cognitive/brain activity .
Helping to support medical conditions such as circulatory problems and those related to memory impairment.
Helps in reducing symptoms of psychiatric disorders and Dementia.
Phosphatidylserine (PS) :
Helps in improving attention, language skills, and memory in aging people with declining thinking skills.
Taking phosphatidylserine can improve some of the symptoms of Alzheimer's disease after 6-12 weeks of treatment.
Vitamins (B Complex):
B vitamins have many important functions and are vital for maintaining good health.
Supports healthy nerve function.
Helps reduce fatigue and tiredness.
phosphatidylserine IP-20 lecithin enriched with phosphatidylserine 20, Ginkgo leaf extract powder (Ginkgo biloba), nicotinamide (niacin), calcium D-pantothenate (pantothenic acid), pyridoxine hydrochloride (vitamin B6), riboflavin (vitamin B2), thiamine hydrochloride (vitamin B1),
Take one vial a day before breakfast . Shake before use.
20 vials x 10 ml
Do not consume during pregnancy or breastfeeding. If you are taking medication, consult your physician. Do not exceed the recommended dose.
Only logged in customers who have purchased this product may leave a review.