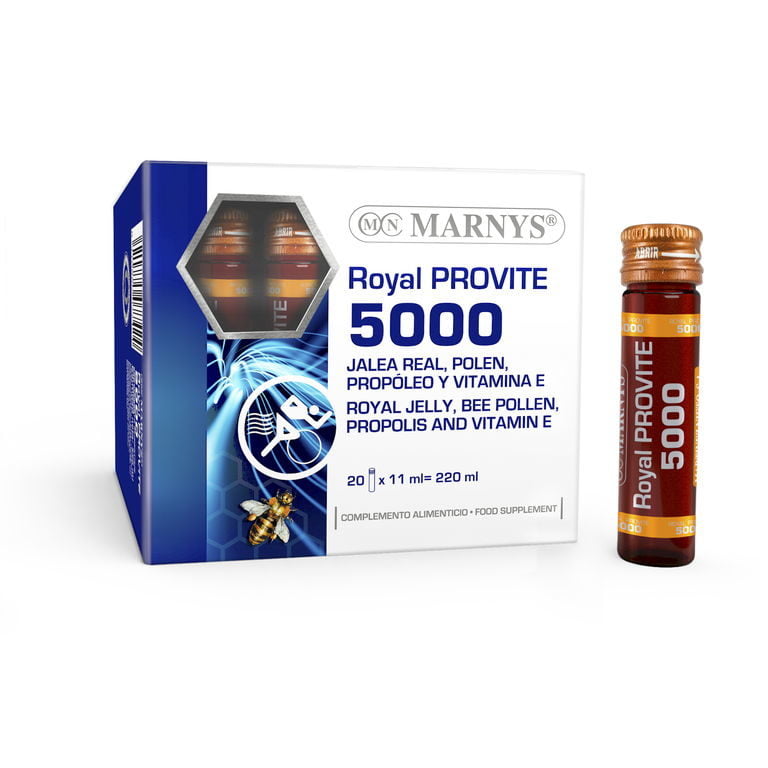 Natural formula for energy and immune support .
MARNYS® ROYAL PROVITE 5000 unique combination of ingredients supply the energy needed at times of high physical activity and supports the immune system.
Contain Royal jelly , Propolis , Bee pollen , Vitamin E in a unique drinkable vials .
Royal jelly :
Provides extra energy for enhancing the metabolic processes.
Contributes to the action against fatigue and tiredness.
The combined synergic action with soybean lecithin provides phospholipids, essential elements for the cells, especially for the nervous system.
Improves the immune system .
Propolis :
Natural antimicrobial & antiviral.
Has anit-inflammatory properties.
Acts as an immunostimulant.
Bee Pollen :
Has numerous health benefits, which are due to the range of antioxidants, amino acids and micronutrients found in the pollen.
Vitamin E :
Royal Jelly, Bee pollen, Purified propolis, vitamin E.
Take one vial before breakfast. Shake will before use .
20 x 11 ml vials
Do not use if allergic to bee by products.
Only logged in customers who have purchased this product may leave a review.