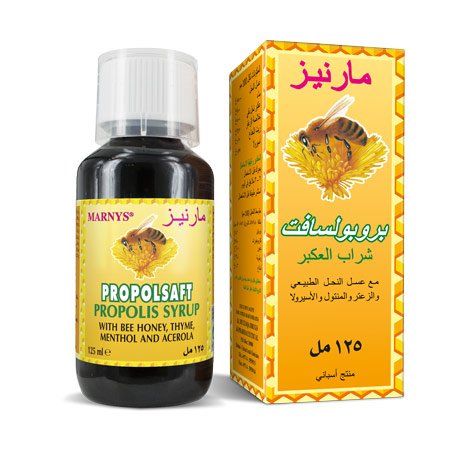 Used for dry & wet cough .
MARNYS® PROPOLSAFT is natural product that helps to strengthen our immune system, increasing body resistance to infection & helps to relief wet & dry cough.
MARNYS® PROPOLSAFT contains, Propolis, Honey, Thyme, Menthol & Acerola , free of alcohol.
Propolis has antimicrobial properties.
Honey is composed of a high content of essential amino acids & has balsamic properties.
Thyme has balsamic and relaxing properties.
Menthol has analgesic and antiseptic activities.
Acerola cherry is one of the fruits with most vitamin C.
Purified Propolis , Bee honey, Acerola, Menthol and Thyme .
Children: 5 ml x 3 times daily
Adult: 10 ml x 3 times daily.
Shake well before use.
125 ml bottle
Not recommended if you have allergy from bee by products.
Only logged in customers who have purchased this product may leave a review.