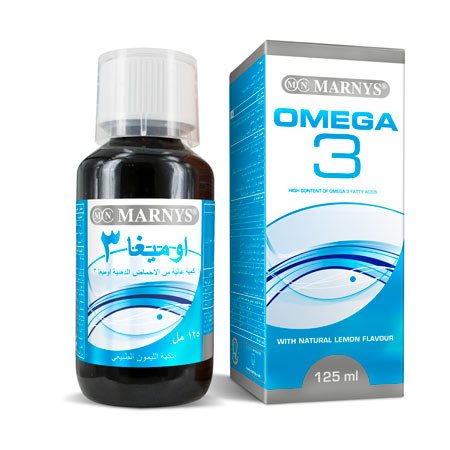 Concentrated marine Omega-3
MARNYS® OMEGA 3 FISH OIL , rich in Omega-3 fatty acids, has been developed to support body function, having beneficial effects on inflammation, serum triglyceride levels as well as on important organs like heart, lungs, joints, brain and the nervous system.
MARNYS® Omega-3 , fish oil, with high DHA concentration (460 mg / 5ml) with lemon flavor.
MARNYS® Omega 3 Fish oil:
Supports normal heart, visual, mental & nervous system functions.
Positive effect on inflammatory diseases.
Guarantees that oil properties are non-toxic.
Purified fish oil .
Children 4-6 years 1.5 ml daily . children 6-12 years 2.5 ml daily . Adult 5 ml daily ( preferably before meal ).
125 ml bottle .
Marine-sourced Omega-3 fatty acids, in liquid format.
Only logged in customers who have purchased this product may leave a review.