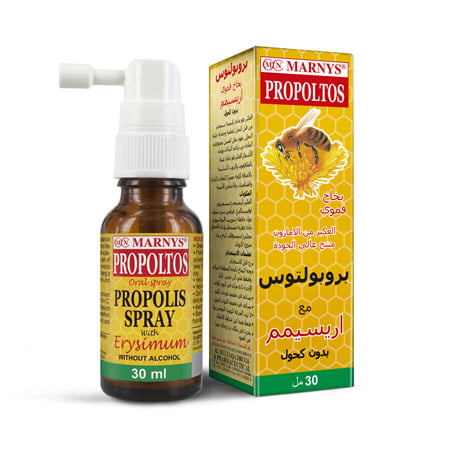 Used for sore throat & dry cough
MARNYS® PROPOLTOS due to its synergistic action of its ingredients it helps to reduce the symptoms of hoarseness and dry cough.
MARNYS® PROPOLTOS oral spray contains Propolis with erysimum without alcohol
Propolis: H

as antimicrobial properties.

Hedge mustard: Has sedative properties, which contributes to the relief of hoarseness and improves dysphonia.
Vitamin C: Is a key element for the regulation of immune cells.
Menthol: Provide pain-relieving & antiseptic action.
Purified propolis , hedge mustard (Sisymbrium officinale) , vitamin C, menthol.
Shake well before use.Point the nozzle to the throat or affected area & atomize 2 puffs 4-5 times daily.
30 ml Oral spray
Do not use if allergic to bee by products.
Only logged in customers who have purchased this product may leave a review.