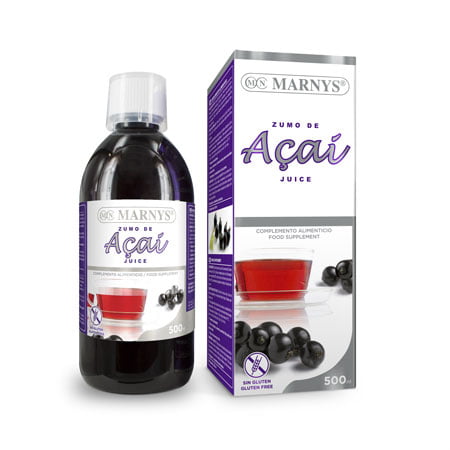 Super Antioxidant.
A powerful food that raises energy levels and has a strong antioxidant effect, apart from containing high amounts of essential fatty acid.
MARNYS® ACAI JUICE contains Acai palm fruits from the Brazilian rainforest, combined with pineapple and lemon juice.
Acai Juice:
Has antioxidant, antiaging  & fiber properties

Chemicals in acai might reduce swelling & helps regulate blood sugar levels.

Nutrients and antioxidants present in acai juice contribute to keeping a healthy immune system and modulate the immune response through its effect on the production of nitric oxide.

Acts as an energizer.
Concentrated Acai fruit extract with Pineapple and Lemon juice
Take 30 ml once a day.
Can be taken alone or mixed with other liquids.
Shake before use.
500 ml bottle
Easy-to-take and pleasant flavour.
With Pineapple and Lemon.
Only logged in customers who have purchased this product may leave a review.