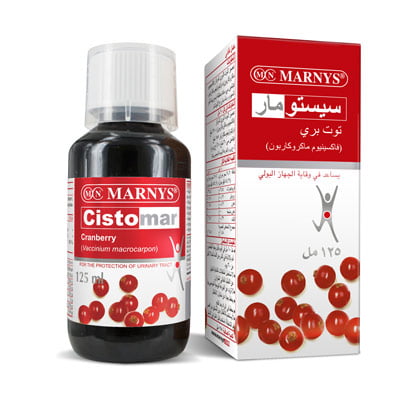 Effective formula for Urinary tract health.
It has been specially developed to help in preventing and reducing the incidence of the frequent & annoying infections of the urinary tract and stomach, helping keep these organs healthy through the combined action of cranberry, fructooligosaccharides and vitamin C.
Marnys Cistomar contains Cranberry,Fructooligosaccharides & Vitamin C in a highly concentrated form.
Helps to reduce the adhesion of various microbes on the cell walls of the urinary tract, therefore helps in urinary tract infection.
Fructooligosaccharides:
Supports the growth and balance of beneficial bacteria in the intestine.
Vitamin C:
Cranberry (Vaccinium macrocarpon) juice concentrate, fructooligosaccharides, vitamin C .
10 ml daily before meal, diluted in a glass of water, for at least 30 days. Shake well before use. Once opened, store in the fridge.
125 ml Bottle .
Excessive consumption may cause intestinal discomfort. Avoid consumption of this product along with medicines and other food supplements based on dietary fibre.
Only logged in customers who have purchased this product may leave a review.