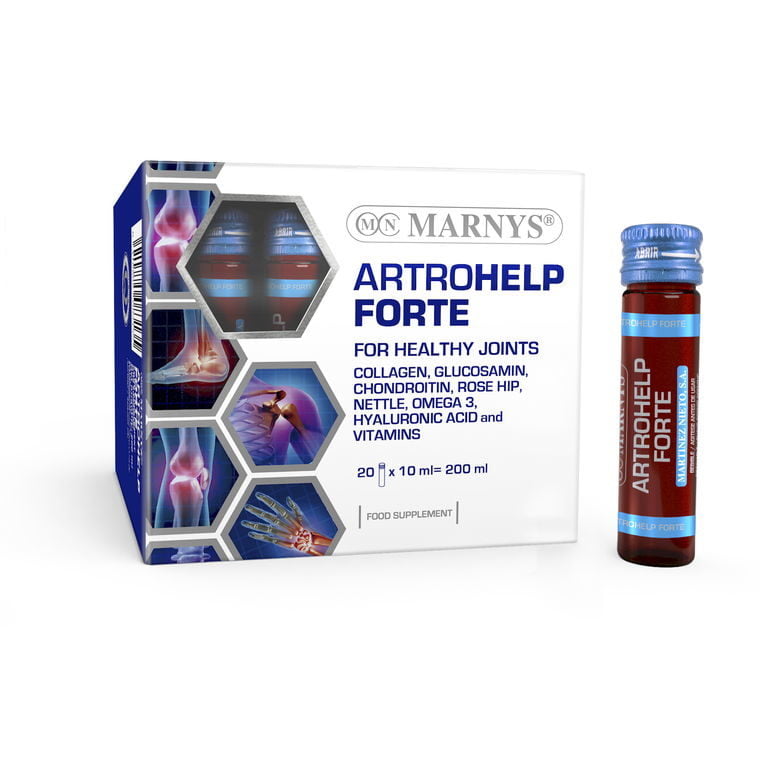 Facilitate mobility and flexibility of the joints.
Synergy formula with Collagen, Glucosamine, Chondroitin, Rose Hip, Nettle, Omega-3, Hyaluronic Acid and Vitamins in a unique drinkable vials.
MARNYS® Artrohelp Forte is a food supplement with a synergy formula essential for collagen formation and to help keep bones and joints healthy.
Hydrolyzed Collagen. Having it in hydrolyzed form, makes it easier for body to absorb, gives bone structure & supports them, and supports maintaining the integrity of your cartilage, which is the rubber-like tissue that protects your joints.
Glucosamine, Chondroitin & Omega 3. Helps to relieve joint pain and protect the degeneration of cartilage. Omega 3 availability , helps to reduce morning stiffness & pain.
Hyaluronic acid. Enhance synovial fluid production and provide elasticity & flexibility.
Rosehip and Nettle. Contribute to normal collagen formation for normal bone function. Has potent anti-inflammatory & anti-arthritic effect.
Vitamins. Helps maintain normal bone functions.
Hydrolysed collagen, D-Glucosamine sulphate, chondroitin sulphate, rosehip extract powder (Rosa canina), calcium carbonate, nettle extract (Urtica dioica), fish oil, hyaluronic acid, vegetable glycerin, D-α-tocopherol (vitamin E), menaquinone (vitamin K2), cholecalciferol (vitamin D3), sweetener (steviol glycosides)
1 Vial a day.
20 x 10 ml vials
Food supplements should not be used as a substitiute for a balanced nutrition.
Only logged in customers who have purchased this product may leave a review.