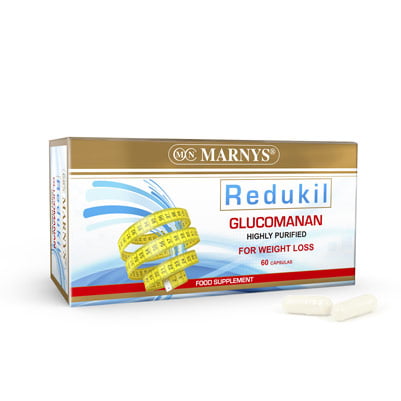 Natural way to lose weight
It's a food supplement that absorbs water and swells up in stomach, forming a highly viscous gel that remains longer in the stomach.This way it gives a feeling of satiety.
MARNYS® REDUKIL consisting of glucomannan- a purified fibre- in a gelatin capsules .
Glucomannan:
Effectively reduces weight by giving a feeling of fullness.
It helps to increase stool volume and reduce colonic transit time thus fights constipation.
Helps to maintain normal blood cholesterol and glucose level.
Glucomannan and microcrystalline cellulose.
2 capsules together with 1-2 glasses of water, before each meals.
60 capsules.
Choking hazard for people with swallowing problems or who take glucomannan with insufficient liquid. Recommended to take product with abundant water to ensure that the substance reaches the stomach. Do not exceed the recommended dose.
Only logged in customers who have purchased this product may leave a review.